Knockout Pest Control Counter-Punch to Superstorm Sandy: Replanting Clark Botanical Garden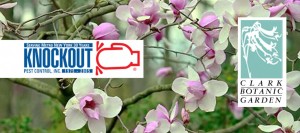 As a local company, Knockout Pest Control has deep ties to this community on behalf of our employees and our customers. We also have made a commitment to supporting environmentally sound practices. These two values inspired our offer to help the Clark Botanical Garden recover from the impact of Superstorm Sandy.
Hurricane Sandy destroyed some 40 trees within the park. The damage, described as "dramatic and devastating," is so severe that the garden has been closed ever since. Knockout Pest Control has pledged to match up to $2,500 for every donation received in March to help restore this beautiful oasis in our community. Consider it Knockout Pest Control's counter-punch to Sandy's wrath.
Please consider supporting Project 40 today and double the impact of your donation. Project 40 aims to replace the 40 trees destroyed in the storm with 40 new plantings by the end of the year.
Together we can bring back the beauty of this community gem.
"I cultivate my garden and my garden cultivates me."—Robert Brault
0
0
1
inShare
This entry was posted in Uncategorized by knockout. Bookmark the permalink.
Leave a Reply