How to Identify Millipedes
The centipede and its cousin the millipede aren't insects but are arthropods, a relative of insects. Insects have 6 legs, while centipedes have 30 long legs and millipedes have 400 short legs.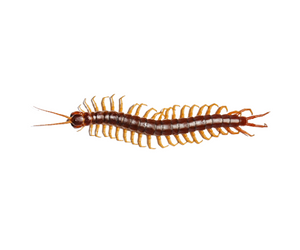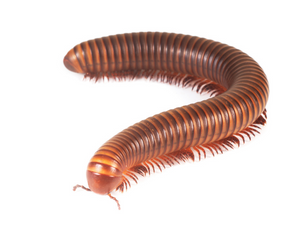 Centipedes and millipedes do not damage homes, furniture, food, or clothes. They prefer the outdoors. Millipedes eat moist decaying vegetation and centipedes eat insects, spiders, and millipedes. Heavy rains or cold weather can drive them into your basement or kitchen. 
Centipedes can bite, but for the most part, these creatures are simply an annoyance.
Allergic Reactions
Some species of millipedes have glands which produce irritating fluid that can cause allergic reactions in some people.
Defensive Sprays
Some millipedes have defensive sprays which contain hydrochloric acis that can affect the skin by burning and/or discoloring it.
How WE KNOCK OUT Millipedes
Call us to get rid of centipedes and millipedes, close points of entry, and treat surfaces to discourage infestation.
Centipedes and millipedes are covered in our effective and affordable Integrated Pest Management Annual Package KO-12 Program that provides you with pest protection throughout the year.
Get Rid of Millipedes Fast
Call 1-800-244-PEST (1-800-244-7378)
We respond like every pest problem is an emergency with fast, 24 hour service seven days a week.