Company of the Month: Knockout Pest Control: Green pest control is effective pest control – saving building managers money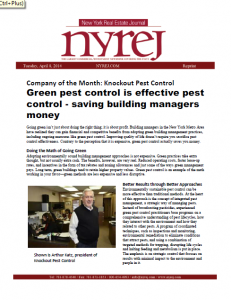 The New York Real Estate Journal named Knockout Pest Control company of the month in April. 2014 and invited Arthur Katz to write about green pest control and how it saves building managers money. Download a reprint of the article "Green Pest Control Is Effective Pest Control" here.
The article covers the "math of going green" about the financial benefits of integrated pest management, including reduced operating costs, faster lease-up rates, and incentives in the form of tax rebates and zoning allowances and more.
It also talks about how green approaches can be more effective than traditional ones as area leaders like the Albanese Organization and Canon, both of which have earned Leadership in Energy & Environmental Design (LEED) certification by the U.S. Green Building Council for best-in-class building strategies and practices.
As an early innovator in green approaches and the owner of only one in 135 companies nationwide to earn GreenPro® certification," Knockout Pest Control is a recognized leader in the field.