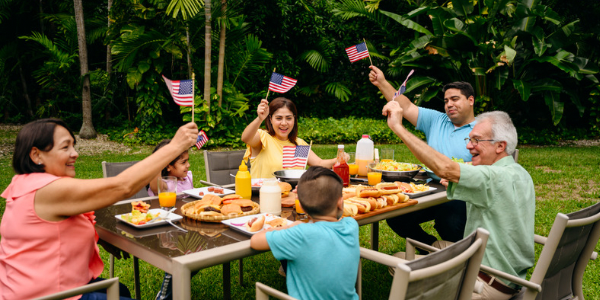 How to Make It a Pest-Free Fourth of July
The Fourth of July is a day for celebrating with food, fireworks, family, and friends—not pests! Because of the nature of the holiday, though, falling in the middle of summer when many pests are more active, along with enticing cookout crumbs, it's possible pests will try to crash your holiday celebration!

To help you make the most of Independence Day, we've rounded up a few tips that will help you make it a pest-free holiday weekend, focusing on some of the most common summer pests in New York: ants, stinging insects, and cockroaches.
How to Prevent Ants
Ants, ants, ants! They're one of the most common pests New York homeowners deal with year-round. To effectively prevent ants at your summer barbecue, cleanliness and pest proofing are of the utmost importance.

Ants are small, opportunistic pests who can easily make their way inside your home given the opportunity. Ants actively seek out water and food, making your kitchen the primary area of your home they'll invade due to the sheer availability of each of these essentials.

To best prevent ants, it's important to clean up spills, sticky surfaces, and crumbs as soon as possible. We also recommend storing any food, such as your celebratory grilled meats or fruit trays in airtight containers to prevent ant invasions inside your kitchen or on your patio.

In addition to cleanliness, pest proofing is also important to consider for not only ants, but other common household pests, as well. Re-consider leaving those windows and doors open, check for any cracks or crevices that need to be repaired or caulked, and make sure tree branches are trimmed back from your house. Since ants seek out water, periodically check pipes and under your sinks to make sure there aren't any leaks.
How to Prevent Stinging Insects
Stinging pests may seem like an inevitable summertime pest, but there are ways to prevent yourself, your family, and your friends from getting stung at your holiday cookout! It's important to note that most stinging pests are primarily aggressive when they feel threatened; because of this, it's highly recommended to seek professional help when removing a stinging pest's nest from your yard.

Yellow jacket wasps in particular love to feed on sweets and meats, two of the most common foods at a Fourth of July cookout! In addition to sealing food in airtight containers and/or making sure it's covered, here are a few more ways to prevent yellow jackets, hornets, and bees from crashing your cookout:

Frequently remove trash if you're actively filling bags; place bags in a sealed outdoor garbage can.
Avoid sweet-smelling perfumes and/or colognes.
Make sure your yard's landscaping is maintained.
Wear light-colored clothing.
How to Prevent Cockroaches
Cockroaches can be one of the most embarrassing pests to show up to a holiday gathering uninvited. Without a regular pest control service in place, no matter how clean your house, you may still end up seeing cockroaches sometimes.

Here are a few additional ways you can help prevent roaches:

Deny access to food sources. This is a great pest management method across the board—pests love food and if you make it available, they'll be attracted to your home.
Eliminate clutter that can serve as hiding places.
Put pet food and water bowls away when not in use.
Regularly take out your indoor garbage.
Check for minor home improvement opportunities such as replacing weather stripping or window screens; these openings could be easy access points for cockroaches to get inside your house.
Dealing With Summer Pests? We'll Knock 'Em Out
To knock out pests all summer long, the most efficient method is an annual pest control plan like our KO-12 Year-Round Pest Management Plan, which targets and knocks out the most common pests specific to not only New York, but your specific neighborhood and home! To schedule an inspection now, call (800) 244-7378.

Happy Fourth of July from Knockout Pest Control!