Bed Bug Infestations Spike During Summer Months–New Survey Finds
Bed bug infestations continue to rise in New York and on Long Island. Just 15 years ago, fewer than 25% of pest professionals had ever treated customers for bed bugs. Now rarely a day goes by that we don't get at least one call for help getting rid of bed bugs.
Expect a Spike in Bed Bug Infestations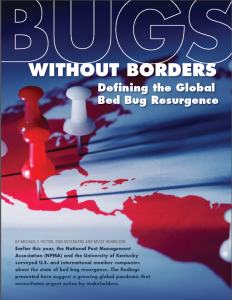 Summer is usually our busiest bed bug season. Though bed bugs themselves aren't seasonal, the activities of the people they feed on are. Kids coming home from school, visiting friends and summer vacations give bed bugs the lift they need to move from place to place, possibly to settle in your home. According to the joint University of Kentucky-National Pest Management Association 2015 Bugs without Borders Survey, the three leading places where bed bugs are found are apartments/condominiums and single-family homes followed by hotels and motels.
Missy Henricksen, the vice president of public affairs for the National Pest Management Association said, "As summer travelers eagerly visit destinations, new and familiar, it's important to remind them that the best way to stem the spread of bed bugs is to be vigilant during and after their trip."
Prevent Bed Bug Infestations in Long Island and New York
Bed bug infestations in our area, with its mobile population, are very common. Don't let your home or business get infested by bed bugs. And if you find you have bed bugs, early detection makes all the difference. Please visit our Bed Bug Center, which contains a wealth of information on bed bugs for you.  Because of the dramatic increase in bed bug infestations in our area, we have compiled a wealth of information on bed bugs for you. Just click on the links below to go to the appropriate page:
Bed bug basics
Identify a bed bug infestation
The newest bed bug treatment options
How to prevent bed bug infestations
Bed bug inspection dogs
Knockout Pest Control Can Knock Out Your Bed Bug Infestation
If you find yourself facing down a bed bug infestation, we can knock them out and keep them down for the count. Our innovative, green treatments, like Cryonite®, and our deep knowledge and bed bug expertise puts them down for the count. We serve all of Long Island, New York City, and Westchester, Rockland and Bergen Counties. Call 1-800-244-PEST or 1-800-244-7378 for fast, 24 hour service seven days a week. We don't have the big red boxing glove in our logo for nothing!